The T-Zone Drill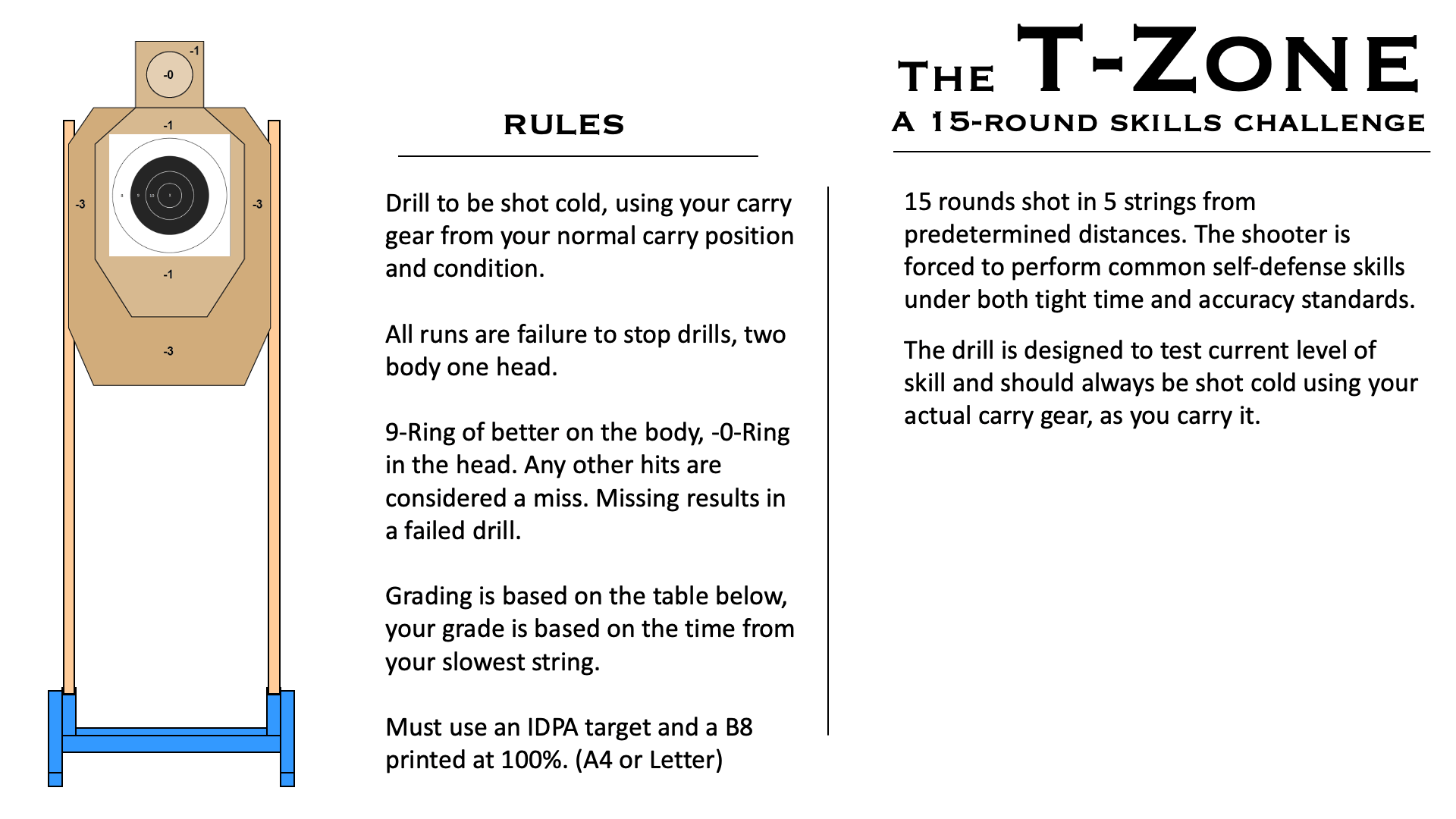 Originally designed for the WTTGS Drill Of The Month by Terrick Naude, the T-Zone is a 15 round, 5 strings drill shot from predetermined distances. The shooter is forced to perform common self-defense skills under both tight time and accuracy standards.
The drill is designed to test current level of skill and should always be shot cold using your actual carry gear, as you carry it.
Rules
Drill to be shot cold, using your carry gear from your normal carry position and condition.

All runs are failure to stop drills, two body one head.

9-Ring of better on the body, -0-Ring in the head. Any other hits are considered a miss. Missing results in a failed drill.

Grading is based on the table below, your grade is based on the time from your slowest string.

Must use an IDPA target and a B8 printed at 100%. (A4 or Letter)
Strings
7m freestyle from the holster
5m Freestyle from the holster

5m strong hand only from the holster

3m freestyle from the holster

3m weak hand only from low ready
Grading
| | | | | |
| --- | --- | --- | --- | --- |
| String | Lower Grade | Standard Grade | Higher Grade | Beast Mode |
| 1 | 3.5s | 3s | 2.5s | 2s |
| 2 | 3s | 2.5s | 2s | 1.75s |
| 3 | 3.5s | 3s | 2.5s | 2.25s |
| 4 | 2s | 1.75s | 1.5s | 1.25s |
| 5 | 3s | 2.5s | 2s | 1.75s |
You must meet or exceed (be faster) the par time on every string to to archive that grade. 9-Ring or better only (body), -0-Ring or better only (head).
Find more information in the WTTGS Facebook group.